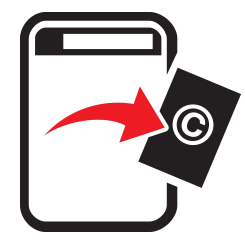 Google Blogger TakeDown Process
step-by-step guide
This process with Google has multiple parts and multiple platforms, but don't get frustrated or sidetracked. Each one is relatively easy, apart from YouTube (which I am researching). The site that you need to start at, will eventually take you to several other forms. I will list the direct links when we hit those markers. However, the starting point for all Google TakeDowns is here! There is a page for of information and a short video on content removal. It may seem awkward to know where to go from here, based on the selection, but the one that you require is the bottom option; "Submit a Legal Request".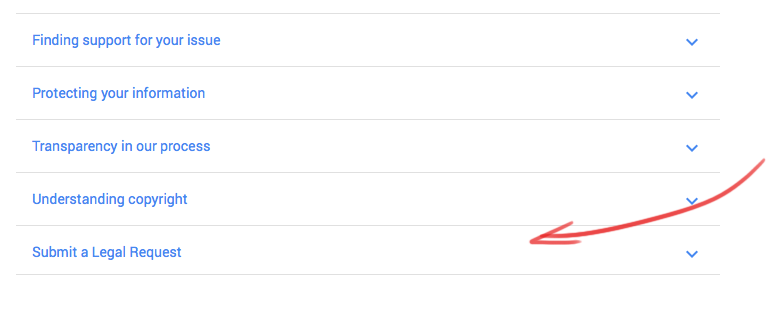 This opens up a hidden section of the same page, which explains a few things and (subtly) gives a link to your next step. Press the 'tool' option or the icon next to it.

This will take you to a troubleshooter page, which is designed to narrow down your options of where the complaint is directed; this is here! As you can see from the list, every known Google associated site and portal is listed, so from this point (and it will reoccur in other processes associated with Google), you can select your desired platform. in the case of this process we are looking at Google's Blogger/Blogspot. Blogspot is a haven for people's blogs, and due to the fact that many people are ill-equipped to create their own artworks or even able to afford to purchase them from stock sites, or even research free to use images, they tend to find whatever they can on the web and use it. Generally without attribution, remuneration or any acknowledgement whatsoever. So, to remove it you click the top 'radio button' and a new set of options appears.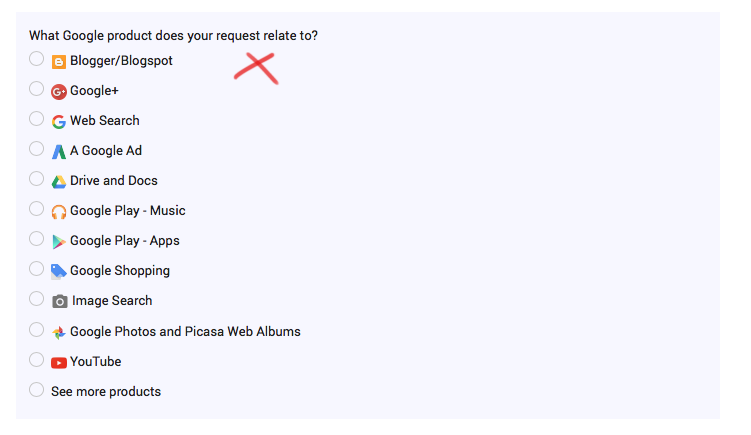 Now again, this gets a little confusing, as it gives a load of information about the fact that these reports are registered at a  place called Lumen. This is all OK, but unnecessary to get the report started. The four top options don't fit into criteria of reporting an image violation, so you need to select the bottom one. And hey-presto, the long dark road of pop-down forms begins.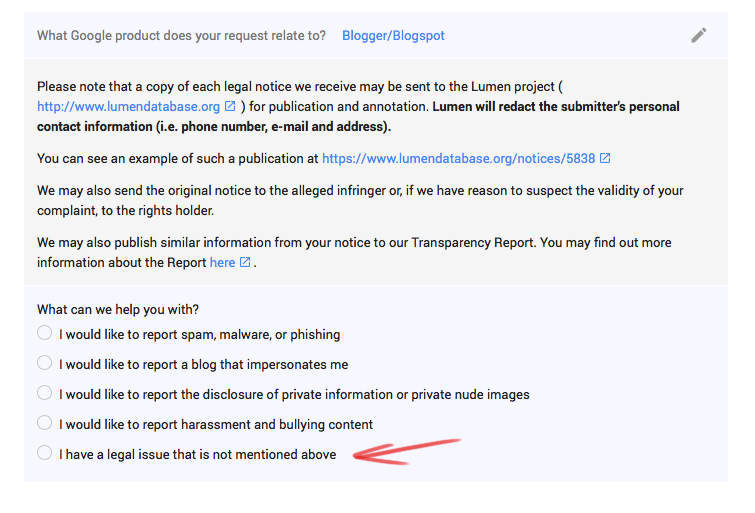 The first cascade is about the image definition. They are concerned in two types at Google Blogger copyright infringement (though I don't understand why there is a difference). But the first step is to make the note that it's your copyright that has been violated. This will then pop the next drop-down element.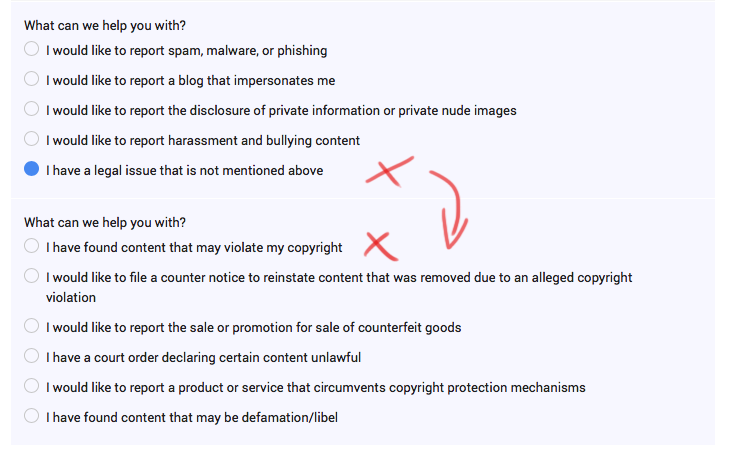 Here you simply need to select the top option, "yes, I am the copyright owner or am authorised to act on the copyright owner's behalf". I have never gone through a process of using the other options, but I can guarantee they make this into a legal DMCA form and it's required the owner file these (or legal representation).

This is when the form takes a step to being long winded and depressing, but continue on (we must battle these thieves). You can select the radio button that states: Image/Video. This opens another pop-down element, and asks that silly question; The image/video is of yourself? As it is artwork you need to select "No". then wait for it…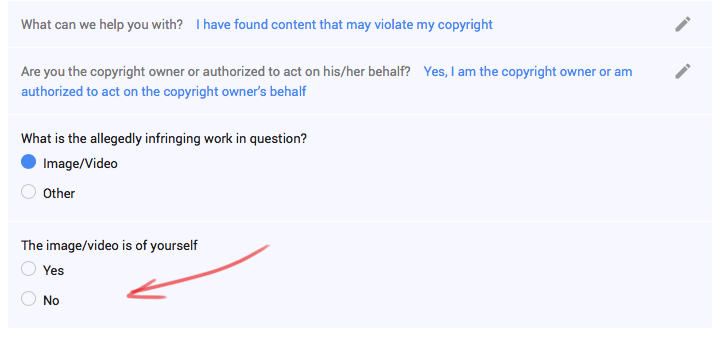 Yes you guessed it, this option gives you a link to a new form that needs to be visited. No worries, they luckily invented tea some centuries back, so you can at least relax and enjoy while yo deal in the next step. The form is located here!

The final form page opens, which is actually the only form you require. And as in every takedown form, it asks for some clarification on your personal details. Everything is standard here, and as you should know, if you have been doing for some time, the company name is only required if you trade as someone (when they visit the link, it needs to be the same). I marked a section. This can be either your legal name or the one listed on your passport if you abbreviate it.
Then the standard questions about your work. Like the other forms I have mentioned, send them to a link that is more official and professional. No social media sites or pages. Doesn't look to real and professional. In the next part, make a clear declaration of what your image is, which very identifiable features. Then add a link to the image on blogger, or the actual blog itself. If the blog opens on a new post page and your image is in the archives, it may be wise to add a link to the page it's on, or better the image.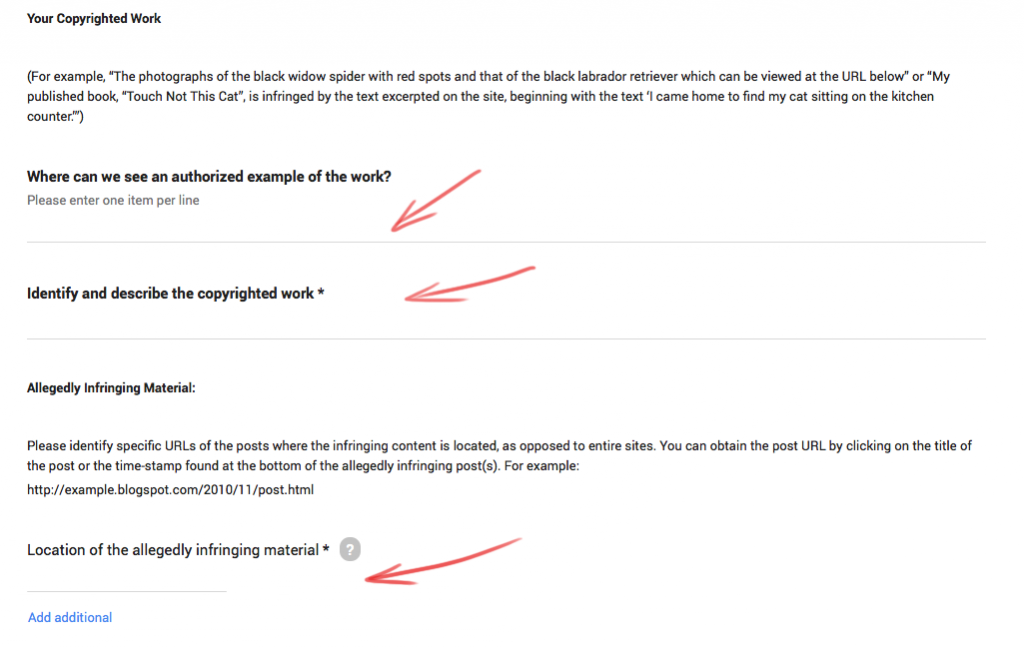 The final section is the legal part and declaration. So, tick, tick and signs and you are ready to go. As with all online takedown forms you will be notified wishing minutes of recipe of the takedown. You will then get a mail from Google in 2-3 days saying they have disabled the access to the image or content. Success!!! This form process will look very familiar with all the Google TakeDown process.