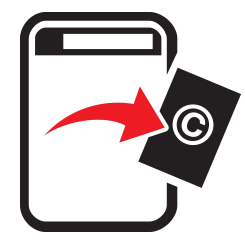 YouTube TakeDown Process
step-by-step guide
Youtube is a very well-known and popular video destination. Apart from it's reported violations of abuse, obscenity and general distasteful videos, it does house a great deal of good video material. Their takedown form, which will be reviewed below is set up to literally notify them of violations against video content. You may find that someone has placed your artwork in a video, used it at the front end, or something like that. This form is to remove the video so that you feel vindicated. However, some of you (like me) might find an instance in people using artworks for profile images (this could be a friend, family member or follower – which could be acceptable, but on the other hand it could be a business page, and these should know better. After all business is business and advertising costs), or placing them on their page header and not adding trackbacks or accreditation. So, by law (but not publicised or easy to find), YouTube has a set up to allow images like this to be taken down (this will be discussed at the end. Their takedown form is easy, but unfurling set of details. The following page is here to go through the steps to complete the process with the best ease and effectiveness. The takedown form can be found here!

When you first visit the portal, you will be confronted with this service selector. This is to help determine the best path that you might want to take in taking the artwork down. It can be misleading, as it does state "Copyright infringement (Someone copied my creation)". So as an artist you may feel that this is the best path to get that profile image down, but it's not. This is ONLY for video takedowns. Anyway, let's assume you have found artwork in a video and you want it removing. You click the "Copyright infringement (Someone copied my creation)" option. This will lead you to the next step, which is a new page of simple questions.

Here all you need to do is comply by stating that you are the copyright owner. So click "I am!" This will then lead you onto the big stage of the process. Filling in the personal and infringement details. First however, you will see that this is where the artwork part gets difficult, as it only asks for a URL to the video. If you try adding the URL to a profile image, etc, it will state this is not a correct URL for a video. So, if you want the "take the profile image down" process, jump to the bottom of this page. If you want a video taken down that features your artwork. Then add the link to the video in the first box.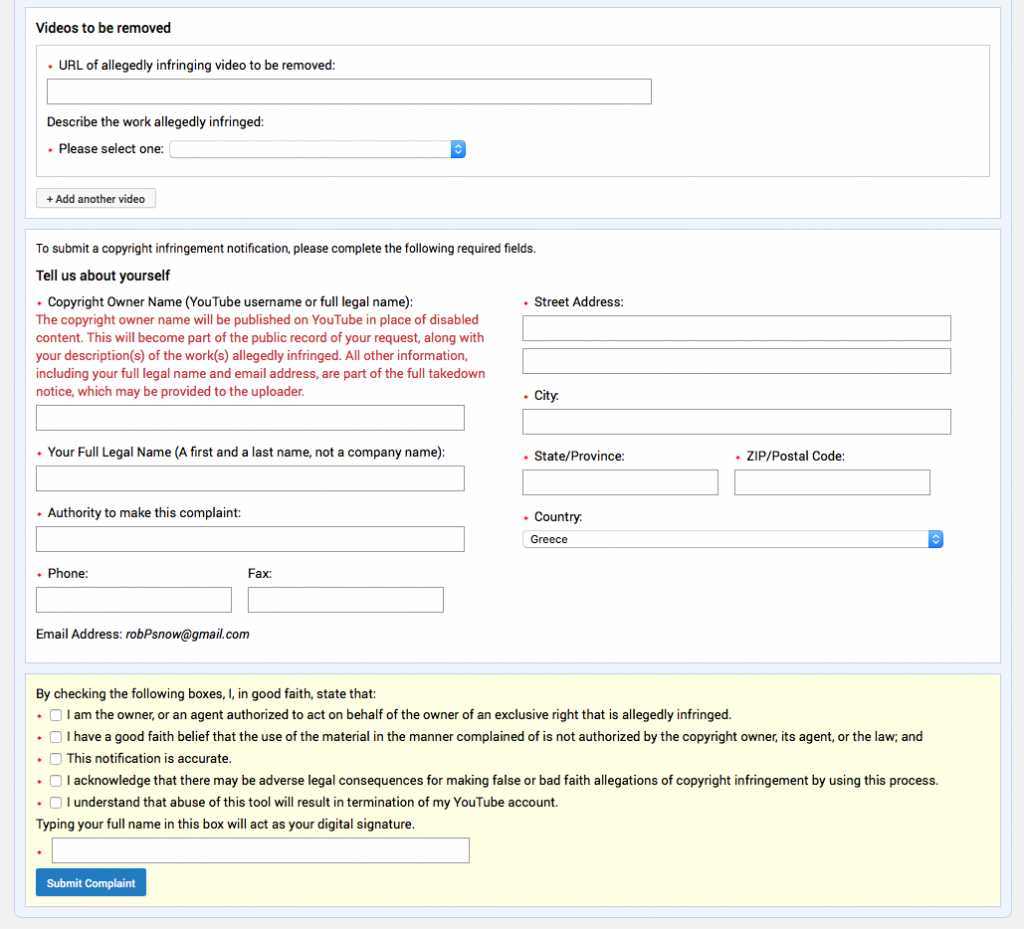 Underneath this URL input, there is a pull-down option. You can see in the image below what the options are. And as stated, if you do find artwork in a video that you did not authorise, you can simply select the option "My artwork". Then simply add all the necessary personal details that are required by the DMCA law to verify that you are the person making the claim and owner of the work in question. The "Authority to make this complaint" would be the name of the person authorised in legal terms. as the copyright owner you will add your name there. If you represent the copyright owner (a lawyer, etc) you will add your name here. After that, it's a simple set of tick boxes that are for legal purposes. And finally your standard "digital signature". That's it as far as taking down videos with your artwork in them. Good luck!

Now, if you locate a profile that has a piece of artwork on it that is yours and you'd like it removing, well the only option YouTube gives is to flag it. This flag can be found in the right hand corner of the banner art box. If you click on the flag you are given a set of options. The two appropriate for art removal are "Report Channel Art", which refers to the banner art that is spread across the page. Or, "Report Channel Icon", which is the profile image in the small box.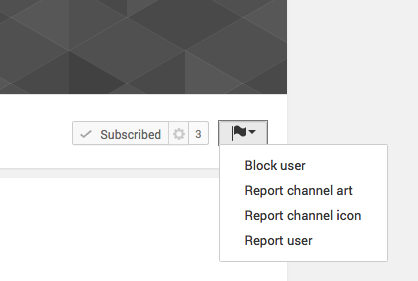 Select which one is most convenient for the type of art being reports and have the next pop-up appear. Now, this isn't an official DMCA Takedown request, so YouTube doesn't have to do anything about the artwork, but it is a step to get it removed. They also do give a warning, that abusing this system will mean you will have your account terminated. If you are happy with that, press the "Submit" button, and fingers crossed!! Good Luck!!