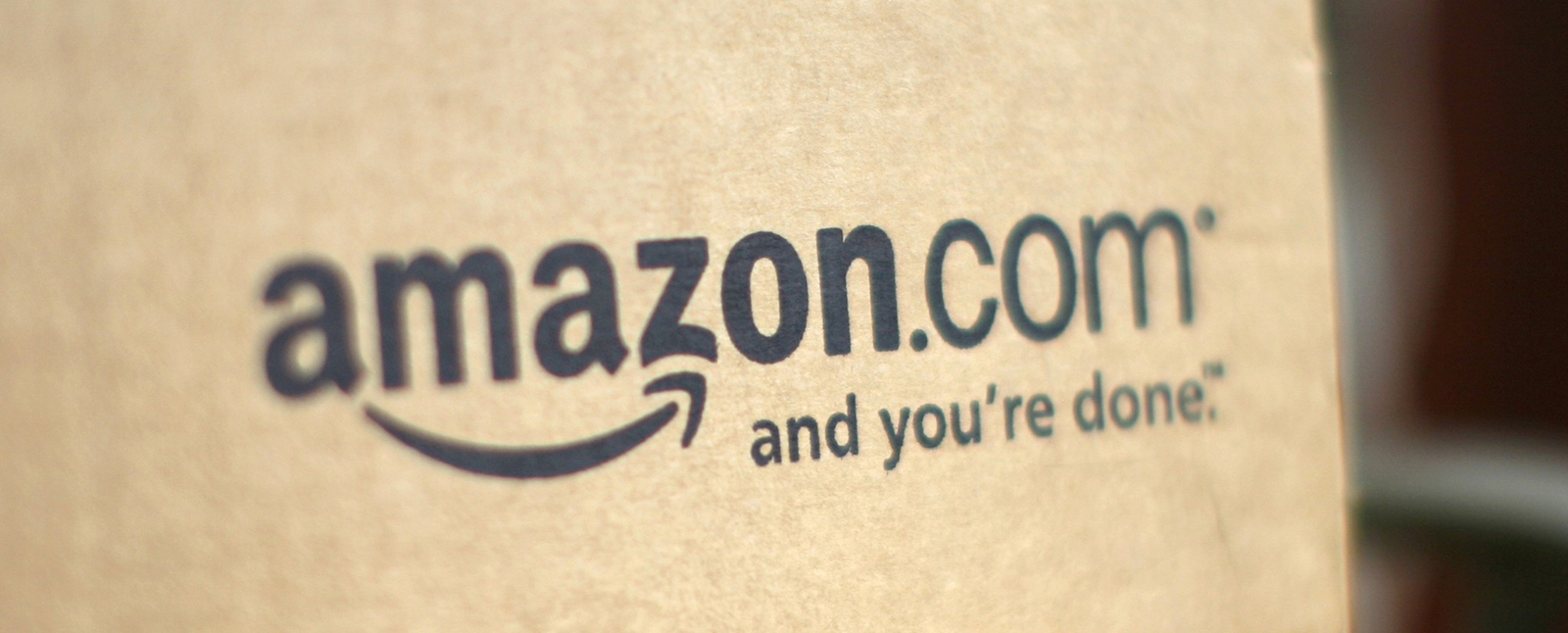 Amazon is a big multinational company, with head offices and online stores that span the globe. Their basic premise is to open the doors to sell or allow sellers to create virtual stores and advertise their wares, so that the global market can take advantage of prices and items from different places around the world. The funny fact is, that due to certain regulations and import taxes, it is impossible to get certain products from one country to the next. An example being, getting electronic goods from the "much cheaper" USA to EU countries means a hefty import tax, and so Amazon refuses to post these items to EU countries from USA. However, it seems that art based stuff (stolen counterfeit based work) can travel many borders, due to it's nature. So, once stolen and copied and placed on whatever cheaply made illegal counterfeit product it can simply be shipped from the place of illegal trading (usually China) and sent wherever.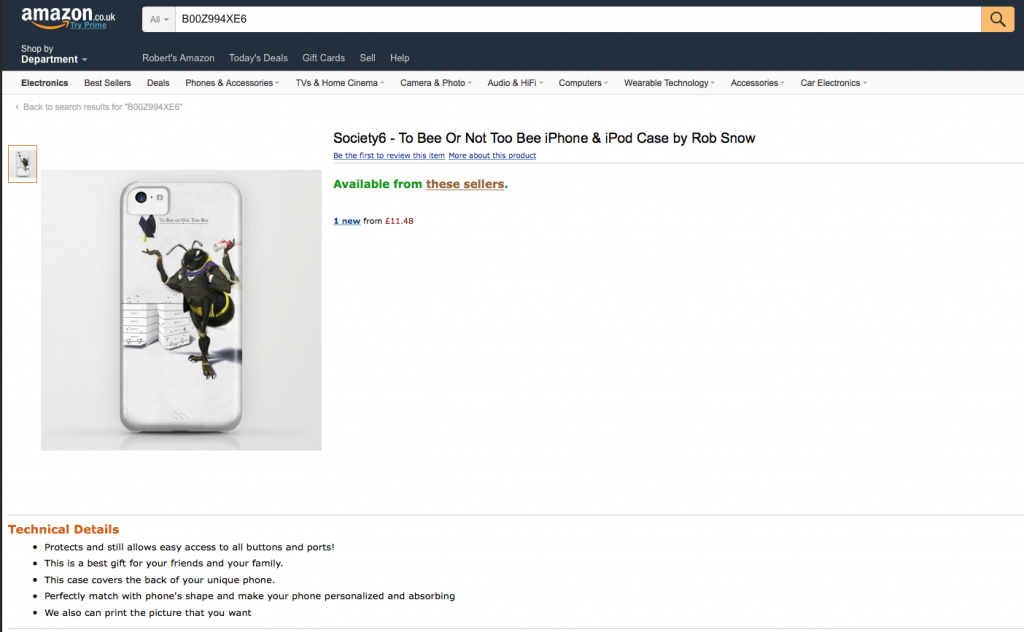 Having laws in place to protect people's privacy is a great thing. The data protection act probably saves a lot of people a lot of heartache when it comes to identity theft, etc. However, that same law also gives a certain group of opportunities a chance to hide behind these protective laws. Now, as the DMCA is a USA based law, and Amazon is also a USA based online selling portal, they are obliged to have an office set-up to deal with DMCA take down request. It is in fact part of the law that online services based in the US are responsive to complaints about copyright infringement, and when a valid complaint comes in, they need to register it an act upon the request. Some of this can be seen in the Lumen Database. That said, if their is dispute then the side of the seller is always seemingly taken. And the infringed upon artist has no rights to request data about the seller, or locations, etc. (due to the data protection act). So, what we have (see the example above) is a group of counterfeiters who know how to work the system. This phone case is illegal. In fact it probably doesn't even exist. What it is is a stolen mock-up (taken from Society6) that has been assigned by this seller, as a legitimate item being sold through Society6.
Now, this is the problem, the seller (CAMERON RUSSELL THOMAS JAMES) seems to be from Taiwan. Maybe that is his real name. However, I very much doubt it, and also there is no way to find out, as Amazon won't give out such data (remember the data protection act). To compound things worse for the infringed party, is that they use this title for the product; "Society6 – To Bee Or Not Too Bee iPhone & iPod Case by Rob Snow" that tends to give the impression the item is legally being sold through Society6 by what is known as a reseller. However, most of the counterfeits found on places such as Amazon, Alibaba, DHGate, TaoBao, etc, are only phone cases. Why is that you ask? Well, what these thieves do is take a relatively large preview of the artwork for the art prints (which on some sites can be 1024px high), and uses that to place on the phone case. Usually not even being close to the same layout as the original legit version. But, they are thinking that people paying $5.00 for a case are not really going to complain about the quality.
Over the years I have had many a "tennis match" with Amazon support over their handling of legitimate takedown requests, by myself. The reason they are refusing these take downs is based on that ridiculous ploy these sellers are doing. Even though the item has my name on it. Even though Society6 Terms of Use policy clearly states that the artist is the sole copyright owner of the piece, which is standard law anyway (unless an agreement is signed), and so on, Amazon rejects these claims because of the Society6 name at the start. Stating, many time str me, that they respect the rights of the seller (thinking Society6 is the seller) and that the take down cannot proceed. The compounded sad truth is that Society6 won't even get involved in such issues, and makes things worse by not even protecting the largest preview images with watermarks.
At Amazon, they do provide a DMCA compliant service, but from experience, the process of reviewing these complaints falls into the hands of a person who takes it upon themselves to make a judgment based on false data (as described above). It basically comes down to a situation of the thief is cleared of the crime because the victim can't prove beyond a doubt (due to the data protection law) that they are illegally selling. No investigation is made, one believes, to the extent of cross-referencing Society6 to any reseller programme, and any bulk purchases of items sold to this seller. This is the failing in the Amazon take down process. And the crazy part of it all, is that even if I can prove I am the legal copyright owner, which I easily could, and knowing that EVEN if it's a legal copy of the artwork, by rights I am allowed (theoretically) to have any unauthorised artwork removed, from wherever, this is overlooked in order to protect the criminal. If that is not the case, then what the hell is the copyright law for?
Amazon could take a great leaf out of Alibaba's book. They have a system, and I have 100% takedown satisfaction, by which you sign a document and they literally take the item down. The strange thing about Amazons process, is that they make you tick or declare the following:
"I have a good faith belief that the portion of the listing(s) described above violate(s) the intellectual property rights owned by the intellectual property owner or its agent, nor is such use otherwise permissible under law."
"I represent, under penalty of perjury, that the information in this notification is true and correct and that I am the intellectual property owner or authorised to act on behalf of the intellectual property owner for the rights described above."
…but they still do nothing, or throw a ridiculous alter-argument at you. Wouldn't it be better to have this claim be thrown at the infringer and if they can't prove a reseller contract or permission by the artist then that is a pretty big red flag. Whether this will change or not, nobody knows. Hail to the data protection act, and let all artists rise to the prospect of the Orphan Works Bill taking away even the credit opportunity to even get your claims rejected by this process.
I have written a comprehensive article on how to better your chances and an alternative method here!